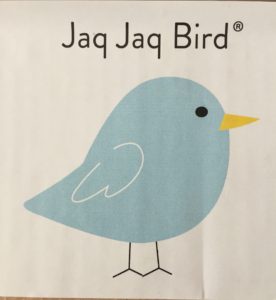 Doesn't it always seem that as soon as you clean up one mess, another appears? How many of you have cleaned up after your kids only to find yourself doing it again the very next day? Sometimes I don't even bother because I know that it is just a matter of time before another mess appears.
I guess as a parent of two young kids, it might be inevitable to have a mess in the house. We have taken different courses of action to try to best avoid it…playing only in the basement, having a designated area in the house, and, have even removed some products from the house because I just can't stand the mess it leaves (sorry Playdoh).
So when I hear about products that are actually mess free, I'm all over it.
Introducing Jaq Jaq Bird, art supplies for kids that are fun! Jaq Jaq Bird combines everything that kids love: imagination, bright colours and functionality.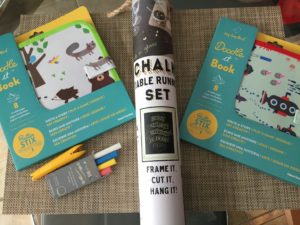 When we drive to Florida, or when we go out to eat at a restaurant, I'm always grabbing bags of crayons or markers and a few different books for the kids to use. It gets big and bulky and messy. The advantage of having Jaq Jaq Bird, is it comes in one easy travel package. It's no wonder it was created by a mom…it's a moms dream come true!
Each Doodle It Book comes with 8 blank pages so you can create your own art or stories, all using the dustless ButterStix. I was amazed to see that these sticks were actually mess and dust free. It doesn't even leave a mark on your hands! The kids don't care about that stuff, but us parents sure do! And with a damp cloth, it wipes right off!
My son spent hours doodling in his book and making different pictures on each page. He absolutely loved it.
As a parent, it is so nice to have your kids engaged by something other than the television or iPad!
And don't worry parents, we weren't left out of the fun. Jaq Jaq Bird also has Table Runners! Get creative at your next dinner party or social gathering by having your table runner across your buffet of food with everything labelled!  Unleash your inner artist…you know you want to 😉
You can buy Jaq Jaq Bird at these retailers or online. You can also find them on Facebook and Instagram.
Are you ready to explore your creativity?
xo
D