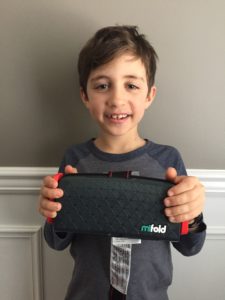 I don't know about you, but shopping for the kids car seats can be exhausting. First up is the bucket. Then you need a rear facing seat. Then forward facing. Then they can use a seatbelt. In comes the booster. It is never ending…or so it feels.
It has never been easy choosing which car seat to put your child into. There are a ridiculous amount of choices and brands. And the sheer size of them is scary to think about.
When our youngest hit the weight requirements recently to start using a seatbelt instead of the 5 point harness, we needed to start thinking again about which car seat would be best.
But we needed to think beyond just what he should sit in; we needed to think about the carpooling we did, the transferring of car seats from my husbands car to mine when we have more kids in the car. We had to think about the times when our parents want to take the kids out and what seat to put in their car. This whole car seat situation isn't an easy one!
And then I heard about mifold. A compact and portable car seat that we could keep on us all the time and be safe no matter whose car they would be in.
Parents, meet mifold; the grab-and-go booster.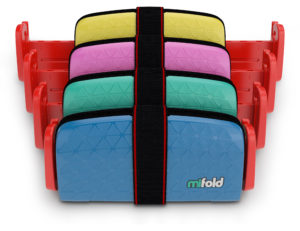 mifold is more than 10x smaller than a regular booster seat and just as safe.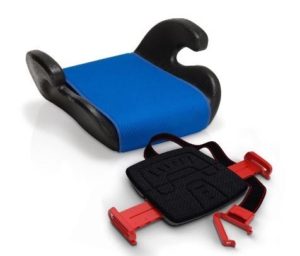 It is completely different to all other car seats and redefines the way booster seats work. Instead of lifting the child up, mifold brings the seatbelt down. Your child is literally flush with the seat.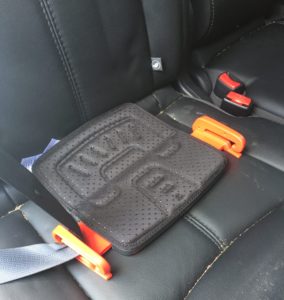 The lap belt is designed to be low on the hips and contacting the top of the thighs which offers very effective positioning. My son couldn't believe the size of it and how nice it felt to sit on!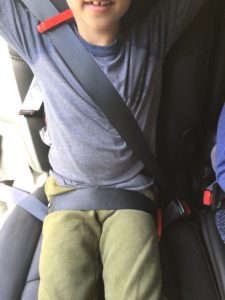 The seat is made with DenseFoam and FrictionFabric which offers comfort and prevents slipping. It is durable with its hard outer case. It is adjustable to securely restrain your kids (there are 3 levels of adjustment based on where your childs thighs are positioned). And it has a quick clip at the top allowing quick and easy adjustment depending on the size of your child.
Here are just some of the features:
mifold

adjusts the adult-sized s

eatbelt to securely fit a child by bringing the seatbelt down to a correct position

 

Features 3 seatbelt clips, two on both sides of the hips, and one on the shoulder

 

Belt guides are adjustable to three sizes to ensure the belt is always held snugly in place

 

Compactly folds and fits into

a

child's backpack,

a

glove compartment or bag

 

Available in 6 colors

 

For use on children 4-12 years

 

Fits children 40-57″ tall

 
Whether your are on vacation, in a taxi, carpooling or going in someone else's car, with mifold, a child can always be and feel safe no matter where they are. Go out and grab yours now, cause you never know when you might need it!
xo
D
MSRP: $49.99 USD or $79.99 CDN
Available online at www.mifold.com, www.Amazon.com and in Canada at Canadian Tire. 
Social Media Links:
Facebook: https://www.facebook.com/mifold
Twitter: https://twitter.com/miFoldBooster
Instagram: https://www.instagram.com/mifold/
Pinterest: https://www.pinterest.com/mifold/
Disclosure: I received product for the purposes of this post. As always, opinions are my own…