I finished watching the show 13 Reasons Why recently and was completely blown away by it. Some memories of insecurities of my time in high school stuck out in my head. I don't remember ever talking to anyone about the insecurities or self esteem issues that I had then. But looking back now, I probably should have spoken to my parents or even my sister. It's funny that we have a support system around us all of the time, yet we don't actually realize we should use it.
My boys are still too young to watch that show, or even fully grasp the idea behind empathy or knowing exactly what's right. Teenagers often don't understand their feelings so I cannot expect my kids, both under the age of 8 to understand.
But as a parent, I can start teaching these life skills from an early age. I want to make sure my kids know that they can come to me or their dad at any time. No matter what they are feeling. Kids need to know that no matter what, they are loved unconditionally. I know that I probably knew that growing up, but at the same time doesn't make it easier to actually go through with speaking to a loved one about those feelings. So how do we make it happen? How do we make sure our kids know what is right from wrong?
We instill in our kids how to act towards others. Be nice. Be polite. Don't bully. Don't be mean. And we can repeat it and instill it everyday. But are we TALKING to our kids about how they are? Are our kids talking to us openly about how they feel?
Children today are now exposed to a number of different media sources including TV, movies, apps, games and more. Ensuring these are positive influences which help to reinforce good values is an important part of parenthood. From who your kids hang out with, to what they watch, parents want to make sure that nature and nurture are working together to teach important life skills that help shape who kids grow up to be. According to Common Sense Media, entertainment can be a strong tool for teaching empathy as it showcases strong, supportive bonds between characters of diverse backgrounds and perspectives.
That's where Netflix comes in. There are a variety of shows and characters on Netflix that have helped shape children's values and teach important life skills such as empathy, patience or respect. Check out how Netflix helped parents connect with their kids with this Social Experiment Video. Note, bring tissues! I cried…
Parents, if you need some ideas on to help understand which Netflix shows help represent core values for your little ones, check out this Parent Cheat Sheet.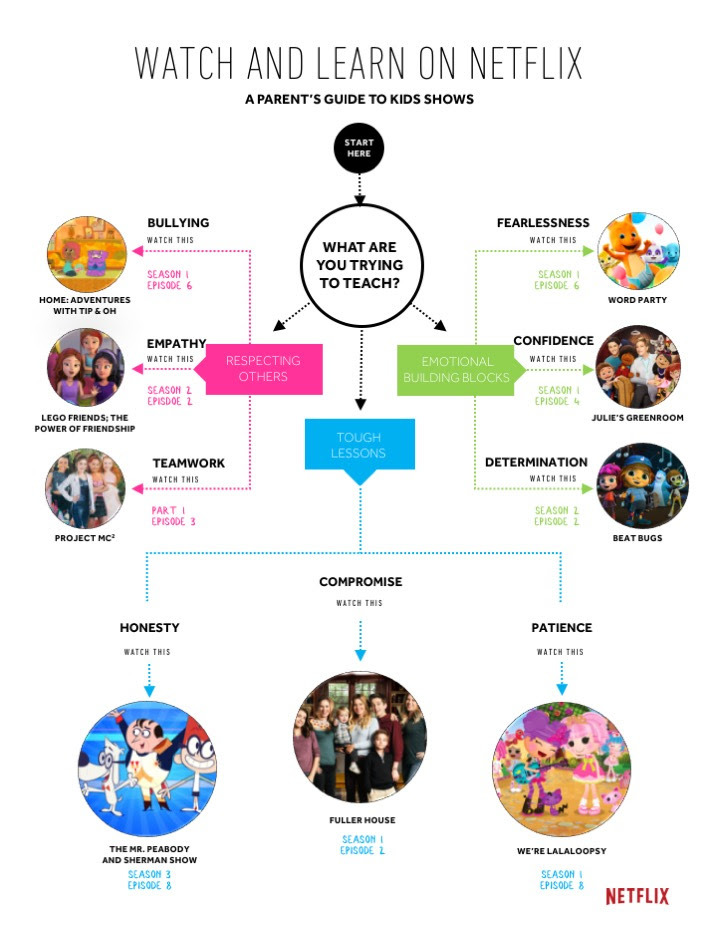 Looking to check out what else is on Netflix? Here are a few other options for your younger ones.
What will you be watching with your kids?
xo
D
Disclosure: I am part of the Netflix Stream Team. I recieve product and perks monthly in exchange for posts about new and exciting Netflix series. As always, opinions are my own…