It's my birthday and I'll shop if I want to!!
Not only is a new season looming it's chilly Fall head around the corner, but it's my birthday month! What I love about September (besides it being my birthday) is that we get to change up our wardrobe! Fall brings cooler temperatures, which means warmer clothing gets to come back to the closet.
I work from home so the majority of my day is sitting in front of a computer. There are times I have the odd lunch meeting, or the days I want to work at a restaurant or coffee shop, so I am always wearing something comfy. I love being comfortable but I also want to be stylish.
Cooler temperatures also brings fall colours. And obviously I need to stay with the trends when it comes to my nails or my lip colour. Most of the time I tend to go dark as soon as the fall hits. I love deep reds…guess with my skin tone it's what goes best!
So because it is fall, and because it is my birthday month, I think it is only right to shop for myself…don't you agree?
Here are my Fall Fashion and Beauty must haves all from Amazon.ca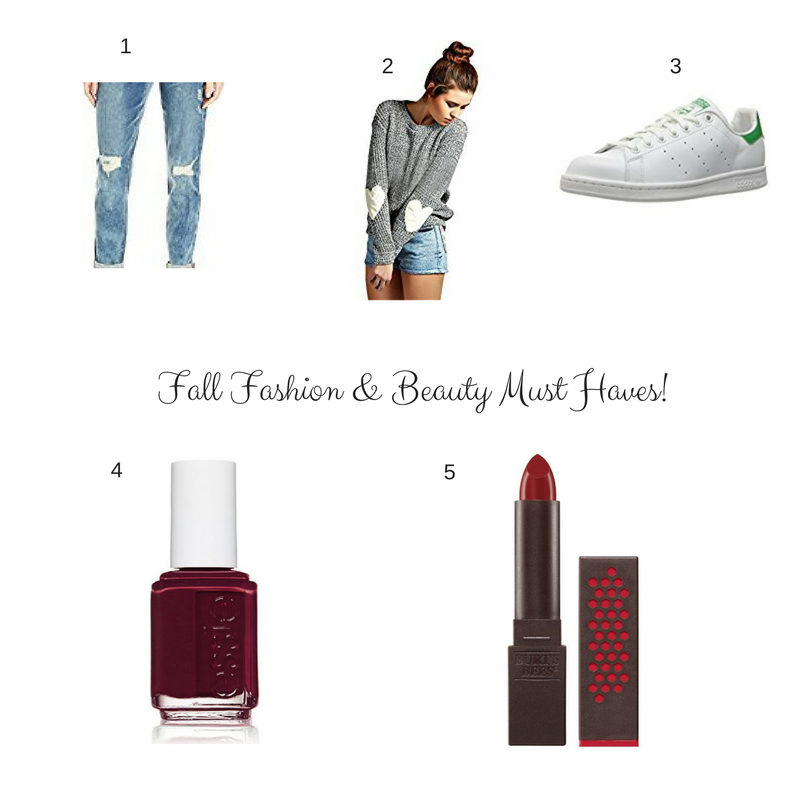 1. 7 For All Mankind womens Girlfriend Jean With Slight Destruction
2. Futurino Women's Heart Patchwork Elbow Crewneck Marled Knitted Pullover Sweater
3. adidas Originals Women's Stan Smith W Fashion Sneaker
5. Burt's Bees 100% Natural Lipstick, Scarlet Soaked, 3.4g
Do you love fall fashion as much as I do? What are you looking forward to buying this season?
xo
D
Disclosure: We are a participant in the Amazon Associates Program, an affiliate advertising program designed to provide a means for us to earn fees by linking to Amazon and affiliated sites. All opinions are my own.