Have you ever lived with males that are super active? Do you know how much laundry they need done? Do you know the smell that they come home with? From my triathlete husband to my 8 year old that plays hockey 4-5 days a week, the sweat stains that come home are deadly!
Stains could be our middle name. Forget the sweat stains that come home with the older boys in our family. For my youngest, a day doesn't go by without some sort of food drop, grass stain from school recess, mud stain or bloody accident. Or ketchup. Always ketchup!! Needless to say, our clothes really take a hit.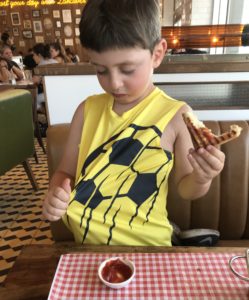 Now while I LOVE to shop, it isn't realistic to go out and buy new clothing every time something gets stained. I am always on the look out for great products that make it easier to treat our clothes and keep them looking new.
Laundry is a regular occurrence in our household. In fact, we do a minimum of 5 loads a week. FIVE…
And yes, there is a separate pile and basket just for my husbands athletic clothes! Because, I mean, well…EWWWWW
So, I have a weekly laundry challenge: getting those deep stains and smells out…just in time for the next wear.
I had to find something great; something that could pre-treat our clothes AND be great in the wash. And then I found OxiClean.
They have a new line that includes pre-treat product as well as  in-wash stain fighters. Just what us moms need! #momwin
The pre-treat products really make all the difference! And Oxiclean really is the key to my laundry success!
So mamas (and dads), trust me and trust your biggest laundry stains to OxiClean pre-treat and in-wash stain fighters. You will keep your kid's clothes stain-free and looking newer, longer! That's what we call the OxiClean Challenge!!
A Few Facts about OxiClean:
OxiClean is the #1 Stain fighter Brand in Canada
OxiClean works on a wide variety of stains and gets the tough stains out the first time
Offers several colour-safe products designed with stains in mind – from powerful pre-treaters to powerful in-wash stain fighting products
Products Include:
OxiClean MaxForce Foam Pre-Treater TM  blasts away even the greasiest of stains the first time with its foaming action. Spray and treat for up to 7 days for those tough, stuck-on stains.
OxiClean MaxForce Spray TM combines 5 types of stain fighters to help you get out more of your toughest dried-in stains the 1st time!
OxiClean White Revive Laundry Stain Remover TM gets the toughest stains out the 1st time and whitens 40% better than bleach with powerful whitening and brightening agents that won't damage clothing.
OxiClean Colour Shield Laundry Stain Remover TM tough stain fighters paired with colour-safe brighteners to guarantee your colours look new and radiant longer.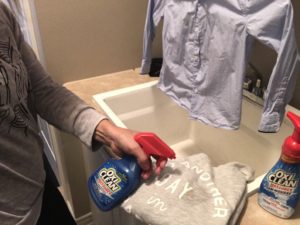 As Canada's #1 stain fighter brand, OxiClean is specifically formulated to lift out the stains the first time, so you're not left crying over the laundry tub over a mustard stain.
Are you ready for the challenge? You too can put an end to buying new clothes every time things look stained or drab by taking the OxiClean Challenge.
Visit www.oxicleanchallenge.ca for your chance to win one of eight weekly prizes of OxiClean stain fighters and a grand prize of a laundry room makeover by HGTV's Sarah Baeumler.
Plus for product news and updates, like OxiClean Canada on Facebook.
OxiClean can be purchased at your local Loblaw or Real Canadian Superstore stores.
Disclosure: I have partnered with YMC and OxiClean and have received compensation for this post. All opinions in the post are my own.