February 9, 2022
7 Prompts for Content Creation
What's New
Are you struggling to grow on Instagram? Not sure of what to post every week to grow your profile or business? Want to make content creation a little easier this week?
If you are stuck on ideas of what to post this week, here are 7 weekday prompts.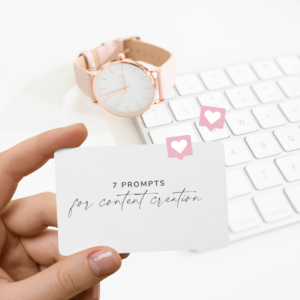 But remember, think about the following first:
*your niche
*your target audience
*your ideal client
Monday Motivation – are you doing something for yourself that you want to share? A challenge or a workout perhaps? Share what you are doing!
Tuesday Tips – share something you know that will be interested to others. Got a hack? What is it?
Wellness Wednesday, Wednesday Why or Wordless Wednesday – Post an image or a quote of something meaningful to you. Or, share why you started your business.
Thursday Thoughts – learn something new? Have something on your mind? Whatever you feel you need to share about yourself, tell us!
Feel Good Friday – Share something that will make people smile that will bring them value!
The intention is to provide value for your audience.
What other prompts do you like and use?
Save this for later when you need some extra inspiration!
xo
D