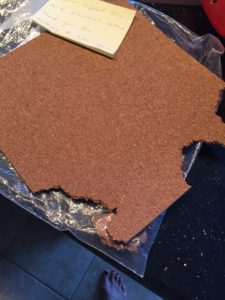 I'm not exactly sure when the fun with ripping began. I guess it was when we were doing some crafts and I was using scissors to cut out things and he couldn't grip his "kiddie scissors".  So instead of cutting the paper, he would gently rip it. There were random times after colouring or playing around that he would rip paper into pieces, but it was all in good fun (for him anyways, not so much for the one who had to clean it up). Didn't think much of it. Why should I? It wasn't like it was everyday or even often.
And then it happened. I got a note home from the teacher. T had taken a book from the class library station, and proceeded to rip out one of the books pages and tear it all up. A note came home (along with all the pieces to show me), explaining what he had done, how she handled it, what they discussed, and that I should talk to him about it too.
When I showed him the bag with the ripped up page, he knew. He looked at me with his puppy dog eyes knowing what I was going to say. Our conversation in a nutshell…
Me: "Why did you rip the page out of the book?"
T: "I don't know, I was just playing"
Me: "Are we supposed to rip books?"
T: "No"
Me: "Do you know how that makes someone feel if you hurt their things?"
T: "Sad"
Me: "Do you want someone to rip up your stuff?"
T: "No"
Me: "Are you going to do it again?"
T: "No"
Knowing the teacher had already spoken to him and that he had apologized to her already, I didn't want to harp on him too much. I just wanted to make sure he understood that what he did was wrong. And he seemed to get it.
I've never had a note from a teacher come home before. Z who is in grade 2 was always a well behaved kid. Never any problems with him that I can remember. So getting the note home from T's teacher was new to me. I know he's WAY more of a rambunctious child than his brother (you should see the disaster he can make at home), but I never knew he would think to do something like that. I was a bit shocked to be honest. But we spoke, he knew, he said he wouldn't do it again, and that was that.
Or was it?
Two weeks later, another note in his communication bag, this time with a corkboard placemat in pieces that they use on the tables. The note this time read "T ripped this corkboard placemat today…please speak with him again about respecting the items in our classroom".
Man, did I feel horrible!! Having it happen once is one thing, but having him do it again is another!
When I saw the teacher the next day at pick up I apologized. She was totally great about it and even admitted that he's only 4, these things happen, and believe her, she's seen way worse things! I get all of that, and I know he means nothing by it. She is right, he's only 4, but he needs to understand that things that aren't his, should not be messed around with.
T and I had another conversation about it and we agreed that if he felt the urge to rip something, he should ask first if it is something "okay" to rip. His excuse this time though was quite cute…he said it was already coming apart at the bottom so he just wanted to make it even. Ha!
I know there's a good chance there are going to be other instances where one of my kids does something that they shouldn't. And it is up to us as parents to point them in the right direction and show them right from wrong.
I hope he learned from this (for a second time) and will be more careful with his and others belongings. Because I know I sure don't want a third note coming home!!! I guess just another prime example of the #momlife.
Have your kids ever done something they shouldn't at a young age, whether in school or at home? Please share!!
xo
D