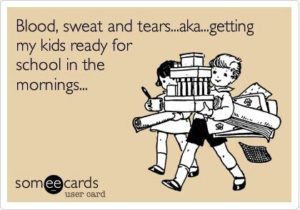 Do you ever feel like you're on repeat mode? Where everyday is almost the same? I have written before on times when my kids don't listen and I sound  like a broken record, repeating myself over and over again. But what I mean here is the day to day. The routine. Ever feel like it is the same thing over and over?
I shouldn't complain really. I am a work at home mom so having the luxury of being home in the morning and afternoons for my kids really is priceless. It would be very hard for me to ever think of giving that up. I know many people who would trade in commuting to work everyday for some, if not all, work at home time. But sometimes, grass is greener on the other side.
Mornings are becoming stale. I sometimes even dread it. Everyday I wake up first (usually), and get myself dressed (read: gym clothes or sweats). I wake the kids. I get their clothes if they don't choose their own. (Or should I say, until they choose something different if they didn't get it first). We go downstairs. They go to the TV or to the toys. I make breakfast and try to get them to the table. I make lunches, I pack the bags, I make sure everyone has everything, I tell them come to the table to eat…again. I sit with my coffee and answer emails until the time comes when it's time to go. Which feels like forever…They finish breakfast and go back to the toys. I remind them they need to get dressed. At least 5 more times.
Its would be a typical morning if you hear, "finish your breakfast", "get dressed we are leaving", "want to go to school in your pj's", "do you have this", "do you have that" ,"leave your brother alone", "don't do that",  numerous times in our morning routine. And the list could go on…
Sometimes I'm pleasantly surprised and we have a great morning. Kids have had enough sleep, they are listening (I know, right?), they are doing things like getting dressed or getting their breakfast BY THEMSELVES, and actually sitting down at the table without being asked to eat. But still, the routine is the routine and some days it is way harder than others.
I'm sure many of you relate. I know I'm not the only one that is beginning to hate mornings. The screams, the tears, the stress (mostly by me)…sometimes way too much to handle.
Don't even get me started on the bedtime routine…
Then, when the day is done, we go to bed, and know that in just a few hours, we will do it all over again. Yipee.
What is your morning routine like? Are you like me and dread it? Share your tips and tricks!
xo
D