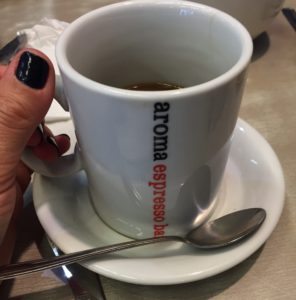 A few months ago, a friend of mine had a contest running with Aroma Espresso Bar. The contest was if you send in a picture of your kids and are chosen, you have the chance to win an illustration of the photo made by ChelseaDrawsYou.
Being a huge fan of Aroma myself and knowing my kids have loved it there too, I figured why not enter and see what happens. To my excitement, I was a lucky winner and received an amazing illustration of my kids which is now proudly framed in our family room. Not only did we love it, but the kids were amazed and absolutely loved becoming #AromaKidz.
I have only taken my kids to Aroma a few times. I'll be honest and say I typically go with friends for lunch or a coffee. I never really paid attention until now just how much they cater to kids.
They have a children's menu with great options and each meal comes with a drink and a small cookie. Now you can savour that special Aroma chocolate they give you with your drink or meal, because the kids get their own treat 🙂
Because the restaurant is so casual and friendly, I didn't have to think twice about going with my kids. So last week when my kids had a PA Day and an afternoon hockey game, I thought where better to go than to Aroma for a wholesome brunch before the big game.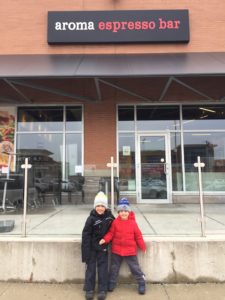 The boys couldn't wait to go back and they even brought some of their friends along. Each kids chose their meal (which all happened to be the same choice), French Toast. And of course, coffees for the adults!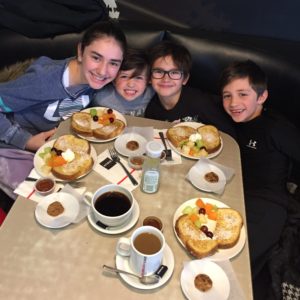 The kids devoured their meals and had a great time. It really is a great place to go and have a meal with friends or family.
So the next time you are deciding on where to go to eat with the family, why not choose Aroma? And maybe your kids will want to become Aroma Kidz too 😉
xo
D