It's March Break! Who's excited? I can't believe the week is already half over! It is the week that all teachers are silently counting down the days for, and the week that all parents don't know what to do with!
A week off of school needs a lot of consideration and planning. Do you spend the week at home, (a.k.a staycation) with your family doing different things everyday? Do you pack up and fly away or take a road trip with the kiddies? Or do you enroll your kids in a camp doing their favorite activity so you can still get some quiet and some work done? Either way, whether your kids are at home with you, are going to a march break camp, or you are travelling, staying healthy and happy is key!
So, I've put together a list of March Break recovery essentials to get you and your kids through the week with ease!
Vitafusion™ Complete Multivitamin for Men and Women & Vitafusion™ L'il Critters™ Barbie™ and Despicable Me™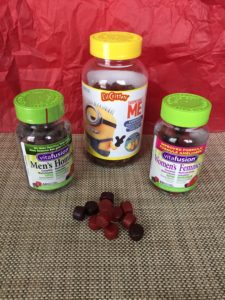 Keeping healthy is so important, for men, women and kids. It is hard enough to get my kids to eat fruits and vegetables everyday to get the proper vitamins and nutrients their growing bodies need. So having complete multivitamins is a win-win in my books.
The Vitafusion complete multivitamin for men and women provide essential vitamins and nutrients to help ensure that you are giving your body the supplements it needs to maintain good health. And for those adults who don't like chewing pills, these come in a great flavour and convenient chewable format that requires no water. ($9.99)
The L'il Critters are a complete multivitamin that any kid is sure to love. They are great tasting, naturally sourced flavours like lemon, white grape, tropical punch, strawberry-banana and orange. These gummy vitamins will help your child get a boost in their diet to help maintain their good health. I'll take that anyday with my picky eater!! ($12.97)
Batiste™ Dry Shampoo Original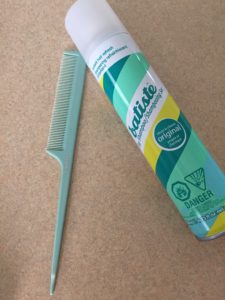 March break means earlier mornings in my house. My kids are both in camps for the week that start earlier than school days. So we are up and out a good half hour earlier each morning. For me, these earlier mornings means there's more rush, which means less time to get myself ready to drive them. Having a product to use to keep my bed head and unwashed hair in check is paramount!
Batiste Dry Shampoo Original instantly transforms hair and is rooted in London fashion styling. Innovative starch based, no water needed formulation contains pure, natural rice starch powder. It leaves a delicate and light citrus fragrance, instantly refreshing and revitalizing hair. Perfect for saving time in the morning! ($8.76)
Orajel™ Super Mario™ Kids Anticavity Fluoride Toothpaste Gel AND Arm & Hammer Spinbrush™ Kid's PAW Patrol™ Battery Toothbrush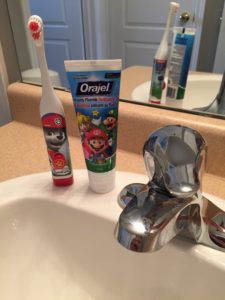 Getting my kids to brush their teeth everyday at least once can at times be difficult. Making sure they have proper hygiene before bed and at the start of their day is important to us. A great way to make brushing teeth fun for kids is using a toothpaste and a toothbrush that feature their favorite characters! This toothpaste is a great way to transition your growing kids from flouride-free to a fluoride toothpaste that not only has great taste but that also protects and strengthens teeth. And the toothbrush has a small, soft bristle power head that fits perfectly in these little mouths. My little guy is actually excited to brush his teeth everyday! #momwin  ($5.58 & $7.28 respectively)
Gravol ™ Multi-Symptom ™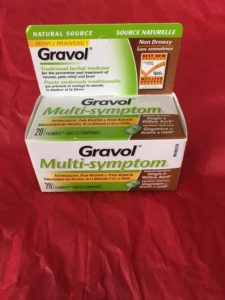 Many families decide to take a road trip or fly somewhere for March Break. When my family takes roadtrips, we've encountered times when someone has gotten car sick, or has gotten sick in some way while we are away. Luckily, we can travel with Gravol Multi-Symptom. This is a natural health product that acts as an antinauseant, pain releiver AND fever reducer. Thats right, ALL-IN-ONE!!! It uses only natural ingredients like Ginger, to help relieve nausea, indigestion and helps prevent vomiting. There is also Willow Bark extracts that help relieve headaches, fever, and mild aches and pains. To me, this is a lifesaver! And trust me when I say it will come with us on every venture we take!! No more needing to pack an entire medicine cabinet when you've got this! ($7.76)
Now, who agrees that if you are armed with all of these, your days, your week and your travels will be made that much easier!!
And now, even better news! A GIVEAWAY!!
Our friends at Church & Dwight are pleased to offer one lucky reader their own personal March Break Recovery Kit filled with a variety of these Church & Dwight products!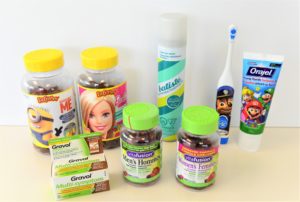 All you have to do is enter HERE.
(*note, this link will not work on a mobile device)
Good luck!!
Contest is open from 3/15/17 – 3/22/17; open to Canada only
xo
D
**All of the products listed are available at mass and drug retailers across Canada**
*Disclosure: I received product in exchange for this post from Church & Dwight. As always, all opinions are my own…