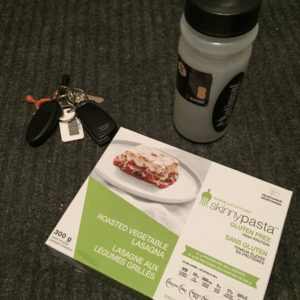 Program after program after program…doesn't it feel like there is always something to do or somewhere to go? I know all moms and dads can relate to that one. But it wasn't until recently that I realized just how much we were on the go.
Between hockey practices, games, swimming lessons and hebrew school, we are finding ourselves running out the door at least 4 times a week.
There have been many instances where we get home from school only to have to run out an hour later to make it to said program on time. Which means more often than not, the kids and I are rushing to eat a quick meal before we have to leave or, want something easy when we get home (cause who wants to cook a meal at 8pm??)
Meal planning on these days can be tricky. I want meals that are quick but also good for you. Too often we end up going to the drive thru of a fast food chain. Ya, not so healthy…
I want to make sure my kids are eating foods that are wholesome. Products that have fibre, vitamins, protein…especially for Z who needs a hearty meal with protein and carbs before he hits the ice.
When I found out that our friends at Skinny Pasta had a line of super foods that were great for on the go I needed to try for myself. And even better, there is variety…they have 5 different product offerings from Lasagna, to Gnocchi, and Ravioli.
The products are made using arrowroot flour, our proprietary blend of ingredients are 100% gluten free, but maintains the taste and texture of authentic Italian pasta.
These products are all under 450 calories (some as low as 240!) and are not only incredible tasting, but get this; they take 6 minutes to make. That's right moms and dads, you heard me…6 MINUTES! A meal has never been so easy and so good!
A few of our favs?
What kid doesn't love ravioli? The boys gobbled up this Butternut Squash Ravioli in no time! Next up to try is the Spinach And Cheese Ravioli! I might just have to sneak one for me too 😉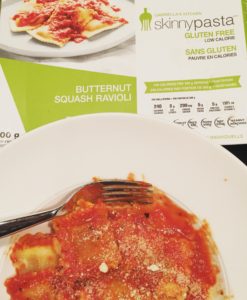 My choice? The Roasted Vegetable Lasagna. Cheesy deliciousness.
We all know how chaotic weekdays can be for families. So want a meal in minutes? Do yourself a favour and check out these super easy and healthy meal solutions for your loved ones. They will be sure to thank you 🙂
xo
D