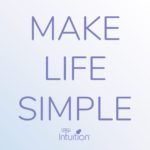 When I became a mom for the first time, life completely changed. There was so much to learn and slowly I got the hang of it. Then once we introduced number 2 into the world, life changed again. Now there were two! Everyday got busier, there was less time to do things, and life seemed, well, a little crazier than usual!
Once your become a mom (or dad), there is alot less time to spend on yourself. I used to be able to do things for myself all of the time before becoming a parent. I used to believe more in self care. But since becoming a mom, there is way less time in a week, let alone a day, to spend on myself.
Which is why I believe in the Intuition Effect.
The Intuition Effect is the little things that simplify your life that have the potential to deliver happy moments to you and your family. It is the way we try to simplify life when things get too chaotic. Because there is chaos being a mom. It is full days, everyday.
So what do we do? Simplify our routine! Because I know when I get to do the things I love, it makes my mood better which in turn makes for a much happier family!
I take an hour four times a week and I go workout. I allow the kids screen time so that they can unwind after a long day at school. It's giving myself that much needed alone time. We all know that feeling of only having 5 minutes to take a shower, or even going to the bathroom with the door closed!
I simplify my routine by making it simple, like using Schick when I only have that five minutes to take a shower. It's as easy as pulling out my Schick® Intuition® razor and shave in one step.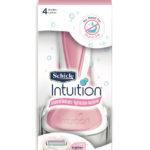 It is so simple. It makes the little things easy and one of the reasons I love being a #SchickAmbassador.
 Rate & Review Program
I am looking for 50 participants to do a Rate & Review of the Schick® Intuition® razor. Once you are chosen you will be emailed a release form that must be filled out and returned to me before you receive the razor.
Sign up here for Rate and Review
Once you get the razor you will come back here and leave a comment reviewing the razor and telling me your "Intuition Effect" – the little things that simplify your life. You will need to include the following near the beginning of the post: "#Gotitfree in exchange for my honest feedback on the product, which is also a contest entry."
The reviewers that post a review on this post with the proper format will be entered to win a $100 prepaid GC courtesy of Schick® Intuition®.
Welcome to the Intuition Effect.
xo
D
Disclosure: I received compensation from Schick® Intuition® to share my honest opinion and thoughts in this blog post. This program is only open to age of majority residents of Canada, (excluding Quebec). All winner will receive a Schick® Intuition® razor as featured in this post. See full rules here.