Have you let the inability to go to the gym stop you from working out?
Since March working out at home has become the thing to do. We've invested in some equipment but don't have nearly enough. But, I've come to realize that you can still get an effective workout even without the equipment or the studio.
Whether you are all about cardio, love strength training, or prefer yoga or pilates, there are still tons of workouts you can do.
So how about some #mondaymotivation!
Here are a few of my favs that you can do without any equipment!
?‍♀️Cardio:
Jump Squats
Jumping Jacks
Mountain Climbers
Speed Skaters
Jumps and Shuffles
?Strength:
Pushups
Planks
Lunges
Curtsey Lunges
Squats
Hip Bridges
?‍♀️Yoga:
Plank Walks
Downward Dog to plank to upward facing dog
Warrior 1 & 2
Tree Pose
Triangle
Of course you could always go for a walk or a jog if that is your preferred cardio, but its getting so cold where we are! So as good as it is to get outside, it's easier right now to be indoors!
Of course if you do want more of an in class style, there are a few instructors and apps that I love. For online/zoom training my favs are @kerfleis_fitandwellness & @thisyogilifts at @innerg.fitness My fav app right now is @onepeloton
So if moving your body is important to you, or if you just love fitness as much as I do, know that you can do anything from the comforts of your own home.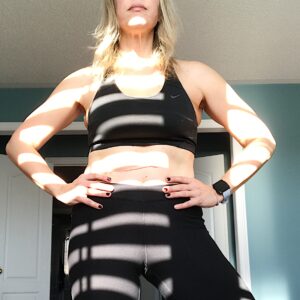 Interested in more workout ideas? Join our private Facebook group and take part in our healthy living challenges! Message me for more info or leave a comment below!
Have you been working out at home? And if so, what have you been doing?
xo
D