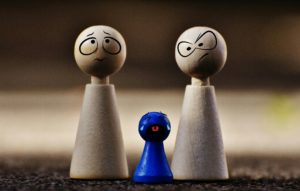 I yelled at my youngest son yesterday morning. Not once. Repeatedly. For at least a few minutes. Even while he cried.
We were already running late to leave for school when we remembered that his outdoor shoes were torn on the bottom and he couldn't wear them anymore. So I go to pull out another pair of runners for him, but he wanted no part of them. So we go to get a pair that was on his 'okay to wear list' (cause you know, he's 4).
But these shoes happened to have Laceez in them so he was having trouble getting them on and done up. Of course my panic sets in as I watch the clock tick away and we get closer and closer to the minute that the bell is going to ring.
So I did what frustrated, panicked and anxious moms do. Or at least what I do. I yelled. I yelled to hurry up. I yelled that he needs to go faster. I yelled that he should be wearing other shoes because he was having a hard time. I was huffing and puffing and pacing around, likely making him more upset.
All the while he just sat there, crying, trying to manipulate the laces with his cute little hands and fingers until he got it. While my oldest son just stood there watching his mom act like a crazy person. Mom guilt kicks in to high gear. My heart is officially broken.
I knew the whole time it was happening that I was wrong. I knew what I should have done instead. I knew that talking calmly and rationally with T is the best way to talk to him. But I didn't. I kept being nasty because apparently being on time for school is more important than making my son happy.
NO.
I could feel the guilt heavy in my chest. As soon as he was done and got up and walked to the car so we could leave I felt it. I felt it the whole way to school, and once we got there.
When we got to school and it was time to say goodbye to him, I hugged him. I told him how sorry I was for yelling at him. I told him why I got upset. And he was okay. He looked at me, hugged me back, and went into school.
Ah, the mom guilt. Even though I had calmed down and apologized to him, I felt the guilt for the entire day. It is hard to let go of a feeling that makes you feel utterly horrible. I know we can all lose it sometimes, but it doesn't make it right.
I try really hard to be in the moment and take a deep breath before I open my mouth in certain situations. So I'm not sure exactly what triggered the explosion yesterday without even trying to talk it out. Whatever it was, it made me feel awful all day, and I know that I don't want to feel like that again.
Here's to hoping I don't lose it next time, cause the mom guilt just isn't worth it!
Have your actions towards your kids every made you feel guilty?
xo
D