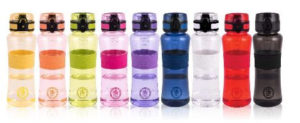 Four. That is the number of water bottles that I have gone through over the past few months. One broke after it rolled off of my treadmill at the studio, one whose spout got all nasty when the plastic started coming off, one where the water wasn't coming out fast enough, and one that kept on leaking.
Who needs that? Not me. Especially when I am going to the workout studio at least 3 times a week. I need a water bottle that is going to last, that is easy to grip, large enough that I won't run out of water mid workout, and, be spill proof!!
How many of you have thrown your water bottle in your gym bag only to find when you get there that it has leaked everywhere? How many of you have been jogging on the treadmill only to grab your water to take a drink, but the water won't come out? How many of you have had to refill your water bottle because the water just doesn't stay fresh or cold?
I have experienced all of those things. So when I was introduced to ion8, I had to give it a try. And honestly, after only a few uses, I think I have found THE ONE!
ion8 is a new water bottle with fast flow, 100% leak proof and a hygienic flip top for when on the go. There are so many options out there it really can be hard to choose. But ion8 has designed a product that is suitable for everyone when it comes to what they want. What we all want or need out of a bottle, ion8 has thought of it:
*100% leak proof (I have tried and tested this!)
*BPA free
*Rapid flow spout for effortless hydration
*Hygienic flip top for one handed use
* Large neck for ice cubes!
*Suitable for hot and cold drinks (14 degrees F to 204 degrees F)
*Dishwasher safe
Moms, they also have a kids line up! Check out their website for a complete list of products.
Sound too good to be true? It's not…want to see for yourself? Our friends at ion8 would like to offer one reader the chance to win an ion8 Ultimate! All you have to do is enter here –>

The ion8 is also available online at Amazon (MSRP $21.99)
So get a move on, and get yours now!
xo
D
*Disclosure: I received an ion8 Ultimate for free to test for the purpose of this post. As always, opinions are my own...