Game Night!!!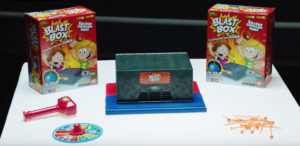 My kids are at the age that they still like to play games with each other. I really wish that would last forever, but I know there will come a time soon when my oldest won't want to play as much with his little brother.
But now, on weekends or after school when homework has been put away, the kids love playing together. And my husband and I love playing games with them too.
Often you will find us huddled around the kitchen table having a family game night. We love the quality time we get to spend together, the laughter it brings, and of course the competition and seeing who will win!!
Our friends at Zing Toys have done it again. Introducing the latest spring addition…Blast Box!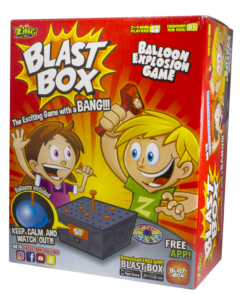 Blast Box from Zing is a new balloon explosion game that combines both suspense and strategy for an unpredictable "burst" of fun!
How to play:
Begin by blowing up one balloon for each player using the included inflator. Next, tuck the balloons under the Blast Box. Players then use the spinner (or the free Blast Box app, available on iOS and Android and loaded with fun trivia questions) to determine how many pins to hammer into box. BUT WATCH OUT! Players must choose their pin placement carefully or else one of the balloons will P-O-P and they'll be blasted out of the game! The player to successfully avoid the explosion of air has mastered the #BlastBoxChallenge and is the winner!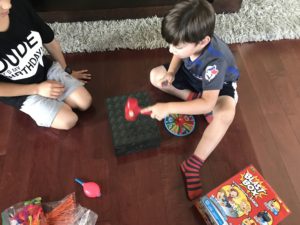 Friends and family can record and share every blasting moment of fun by using #BlastBoxChallenge.
Blast Box comes with 1 Blast Box, 1 hammer, 100 balloons, 1 balloon pump, 30 plastic pins, 1 spinner and 20 easy tie balloon clips.
Check out Blast Box here:
Blast Box is available in the USA at Amazon and Zing.store and in Canada at Mastermind Toys (ages 4+)
Our friends at Zing want you to share in the fun and are offering one lucky reader the chance to win Blast Box for their family game night!
All you have to do is enter here:
a Rafflecopter giveaway

And check out all of their other fabulous products like this one.
Have fun!!
xo
D
Disclosure: I received perks in the form of product in exchange for this post. As always, opinions are mine…