Not too long ago I shared a great DIY kids game that you can make and play with you kids called Fivezis. My youngest came home from school with the game and we loved it so much that I had to share it.
Well, a few weeks ago, he came home with another great game called Sweet Sprinters thanks to his amazing teachers.
This one isn't as much of a DIY, but you do need to create the board, and find 4 pieces to play with.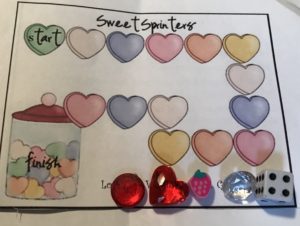 If you are going to be spending any time away or at home with the kids over March Break, this is a great idea to occupy some free time!
Here is how to play:
Use gems, buttons, coins or erasers to play with one of more friends.
Put all game pieces on "start"
The first player is the youngest. Play continues to the left of the player
The first player rolls the dice and moves their piece along the board. Each dot is one spot.
Each player takes their turn
The winner is the first player to land on "finish"
That's it! Another easy peasy game that all kids will enjoy and love!
Do you have any great DIY games you play with your kids?
xo
D