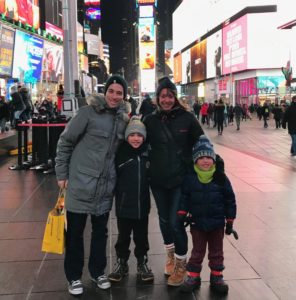 Over the winter break my husband and I took the kids to New York City. Before we left, we made a full itinerary of everywhere we wanted to go. Of course one of the most important things on my list is where to eat!
New York City has a ton of amazing restaurants and dessert shops. So of course, we needed to try many of them. And for those that didn't make the list on this trip, it will be a part of the next!
We went to so many great places; current favorites and new ones. So for those of you who are thinking of visiting New York and deciding on where to make those reservations or go for dessert, here are our top choices of where to eat in NYC!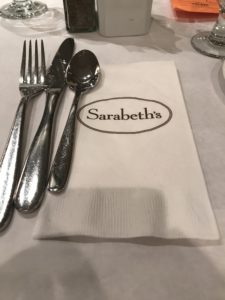 Sarabeth's is a neighborhood staple and a go to of mine every time. The menu is contemporary American food in a warm atmosphere. It is located in a neighborhood staple, right across from Central Park, and is within walking distance of the historic Plaza Hotel, Carnegie Hall and the Museum of Modern Art (MoMA). They serve breakfast, lunch and dinner every day of the week.
What we love: 
We love their selection of food. We have only been there for breakfasts/brunch so can't speak to their dinner options, but the selection of eggs, omelettes, sandwiches and salads are amazing. They have a great kids menu as well. I think we will have to try dinner next time and try something new!
What could be better:
They are always busy. Depending on the day and time, you'll likely be waiting in line. Their entrance isn't huge so it tends to get very crowded. Try to remember to make a reservation. Service is friendly, but kind of just "there".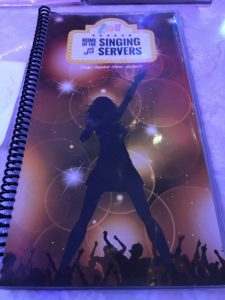 Ellen's Stardust Diner is the home of the world famous singing waitstaff and some of the best diner food in the country. As we all know, New York City is the home of Broadway and top musicals. And at this restaurant, they home the future stars of these stages. Each wait staff takes turns with a song (solo or duets) and will sing their hearts out to you and to the entire crowd while you eat. They serve Breakfast, Lunch and Dinner and have a great selection of comfort foods.
What we love:
This restaurant amazed me.  Not only is it upbeat, but it is super friendly, inexpensive and has great food. Besides who doesn't love singing while you eat?!
What could be better:
They don't accept reservations so be prepared to wait in line depending on the day/time of week.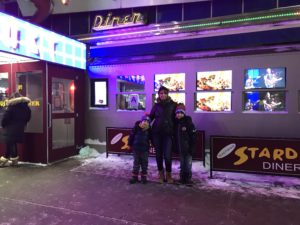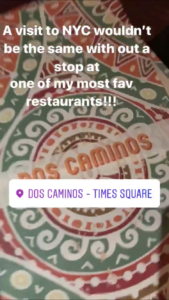 I honestly can't do a trip to NYC without a visit to Dos Caminos.
Dos Caminos brings the vibrant spirit of Mexico to New York City. They serve authentic and upscale Mexican cuisine, including fresh guac (which is THE BEST), killer margaritas, and South of the Border staples like Asada Tacos (my fav dinner option), and Mexico City-Style quesadillas.
Good for a family dinner, girls night out, or really just about any occasion!!
What we love:
One word: GUACAMOLE! Their fresh guacamole is truly the best I have ever had (and you can get it served to the spice of your choice). It is a MUST when you go.  Offering for kids is great and will appeal to any tastes (trust me, I've got a picky eater!)
They take reservations so you're able to book in advance which is great because they are always busy! They also have a number of great locations to choose from depending on where you are staying or headed for the day.
What could be better:
Honestly, I've never had a bad experience there so nothing to report here!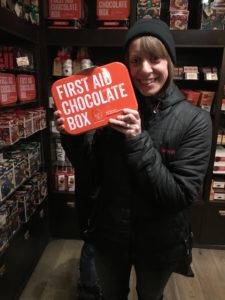 Max Brenner is the best of both worlds; a restaurant with great food coupled with being a full chocolate bar. I swear it was like being in Charlie and the Chocolate Factory. Literally there was chocolate EVERYWHERE.
The venue is like a mix of everything; a little chocolate shop, a bar area and restaurant/cafe.
If you know me (and my kids for that matter), we are true chocoholics. So this place was like heaven for us.
The food for dinner was really tasty and they have a huge selection. But make sure you leave room for dessert (or just go for dessert) cause that's what they are known for. Trust me when I say their selection of desserts are unreal. We went pretty simple on our choices, but man, next time, I'm totally diving in to the chocolate pizza.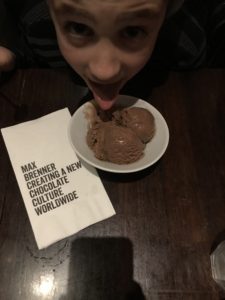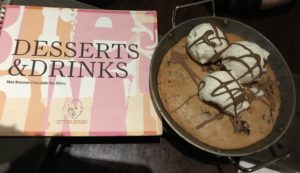 What we love:
Amazing selection of both food and desserts. They take reservations and you can shop while you wait!
What could be better:
Super busy so make sure you reserve (though we still waited), tables are quite small and the restaurant sit down area was pretty squishy.
Since we are on the topic of desserts, we'll stay there for the next two…;)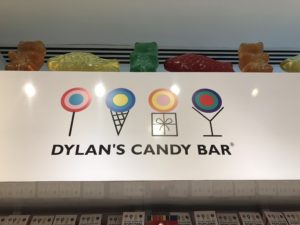 I have been travelling with my husband for the last 12 years and one of our favorite places to go is Dylan's. In fact, every trip we take we make a stop at Dylan's if there is one. So naturally, when we travel with the kids it is a go-to. Not to mention my kids (like me) have the biggest sweet tooth!
Dylan's Candy Bar is not only full of candy and chocolate but it is like a museum of sorts…decorated staircases, lollipop trees, candy columns, chocolate shelves and candied wallpaper. It's a place where you literally have to see everything to believe it. And you'll find yourself singing along to "lollipop lollipop" as your discover each floor.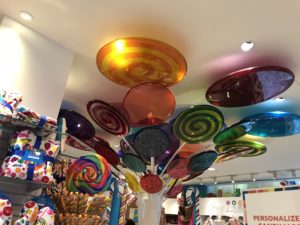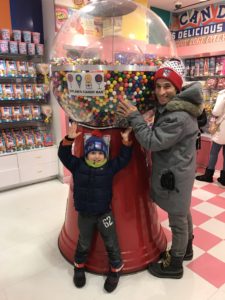 Dylan's Candy Bar has the largest selection of candies and candy-related gifts. There are private label products, rare American favorites and huge selection of novelty items. They also have a selection of non-food products like toys, clothing and more.
What we love:
What's not to love? They have everything you need in a one stop shop. Get your candy fix, get your chocolate fix, really you can get anything here!
What could be better:
Uhm….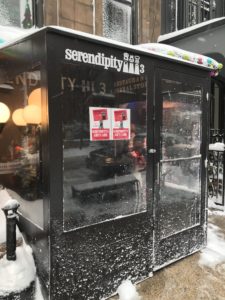 Ever since I saw the movie of the same name years ago, I have always wanted to go to Serendipity. My husband and I have been to New York numerous times, but for whatever reason, never went there.
So this time, we made it one of our afternoon stops.
Serendipity is a really popular place! It is more than a coffee shop that serves and is known for its frozen hot chocolate. It is a cute little brownstone tucked away. Down the few steps is like a hidden gem, full of Victorian decorations, a little shop, and a number of tables for it's crowd.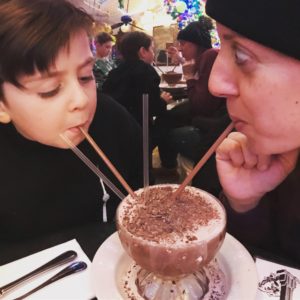 What we love:
Their menu is HUGE! Not only do they have their traditional dessert selections that they are known for, but a vast selection of family favorites. Lucky for us cause our kids were starving! Can you say, foot long hot dog?!
And when you go, you must try the Frozen Hot Chocolate. And warning, their cake slices are MASSIVE
What could be better:
It's a rather small place, so depending on what time you go, you might not be able to get a table. If you have to wait (they take limited reservations and NO dessert reso's), there really isn't much space.
So there you have it. There are TONS of great restaurants in New York City. And so many more that we need to try. Next trip, whenever that may be, I'm promising myself to try somewhere new!
What are some of your favorites in NYC? Or where do you want to try next?
xo
D