I remember my sister saying one thing specifically before I had my first child. Her words were, "you will never sleep again!"
How many of you parents out there feel that is true?
The first few days, weeks, months and years after having a baby are tough, but after a certain amount of time (albeit 3 years), you do sleep again. But it's never the same. Especially if you throw another kid into the mix!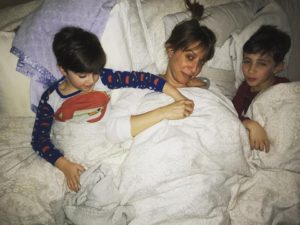 I'm lucky that both of my kids were/are great sleepers. For the most part.
My youngest still has a tendency to wake up at least a couple of times a week and head over to my room. Either to sleep in my bed, or get me into his. Still have no clue what wakes him, but regardless, it happens.
Not only that, but I am a very light sleeper. The sound of a footstep will wake me up. Call it mother's instinct, I don't know, but I hear EVERYTHING.
So, needless to say, while I've gotten back my long stretches of sleep now that my kids are older, I still can't sleep through the night.
I tried a few things to see if I could sleep better including a new mattress and some pillow changes. But nothing seemed to help. I would still wake up at random hours of the night/morning for no apparent reason.
And then I heard about a pillow that my sister uses. A water pillow. A WATER PILLOW?? I had to try it. Apparently it was beyond comfortable and helped improve her sleep. And that's when I learned about Mediflow…
The Floating Comfort Pillow by Mediflow, is the only pillow clinically proven to improve the quality of sleep, for consideration.
The Floating Comfort Pillow features an exclusive waterbase technology that provides responsive support by adapting to the shape of your head and neck as you move during sleep. No matter which way you lay, your head and neck remain in proper alignment, creating a totally different kind of sleeping experience. It's the gift of a good night's sleep!
Some info:
It's the only pillow clinically proven to improve the quality of sleep, as noted by a peer-reviewed study conducted at Johns Hopkins University School of Medicine
Benefits include deeper sleep (no more waking up to fluff your pillow!) and a reduction in neck pain
It's customizable. Choose your preferred filling (fiber, foam and feather) and level of comfort – just fill the pillow with tap water until you reach your desired amount of firmness
Invented in Canada and ranked #1 selling pillow in six countries (USA, Canada, UK, Germany, France and China)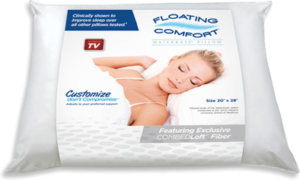 It sounded and appeared strange to me at first; I mean I have to fill up my own pillow? But it is amazing! I can fill it up as much or as little as I want depending on the firmness I need (the tools to fill are all provided). And let me just tell you what a difference it has made in my life. Literally, I sleep SO much better than I did before I started using it.
The only negatives (and they aren't negative really) is that the pillow is heavy when its full and you can hear some sloshing of water depending on your movements. But it doesn't bother me when I sleep. I swear to you, it is life changing!! I really don't think I could go back to a 'normal' pillow!
The Floating Comfort Pillow by Mediflow MSRP is only $49.99. For more information, visit www.mediflow.com.
Of course everyone has their own likes when it comes to the comfort and firmness of their pillow, and this may not necessarily be right for everyone. But I loved it. My husband is a bit jealous too 😉
Who else needs a good night's sleep? I ask because our friends at Mediflow want to give one lucky reader a Floating Comfort Pillow of their own!
All you have to do is enter the giveaway below.
(Giveaway open to residents of Canada (excl. Quebec) and the US)
a Rafflecopter giveaway

Good luck and good night!!
xo
D
Disclosure : This post is in partnership with Mediflow but, as always, opinions are my own…