Just give me freshly baked muffins and I'll be happy. But make them healthy, and I'll be even happier.
Kids and I decided to bake yesterday and banana muffins are one of our favs. One kid asked for blueberry and one for chocolate chip, so….we made both!!
Here are two easy, healthy recipes you can do in minutes!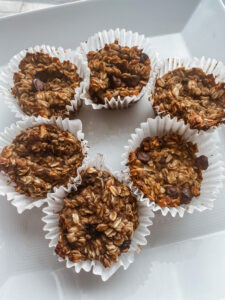 Banana Chocolate Chip:
•3 mashed bananas
•Oats
•2 scoops Arbonne banana pancake protein powder
•Splash of vanilla
•Chocolate chips
Blueberry Banana:
•2 mashed bananas
•Frozen blueberries
•Oats
•2 scoops Arbonne Simply1 Vanilla protein powder
Mix ingredients together in a bowl and scoop into muffin tin
Bake at 350 for 25-30 minutes
Enjoy these as a breakfast food, a late afternoon snack, or dessert!
Happy baking!
xo
D