For those of you that have been following, you'll know that last May I started on a "Better-For-You" eating kick. I had started working out and paying attention to the foods that I ate. It has been quite a journey but a successful one.
Because of the success I had with eating better, my focus turned to the kids. I have written before how my kids (well, mostly my oldest), can be picky with food. But when it comes to snack foods, well, they love just about anything.
So to ensure that they don't over do it on sugary foods and chocolates, I always am on the hunt for "better-for-them" snacks too.
We go through so many snacks a day. Whether it be for school, before or after programs, or just because it's midday. T alone takes 4 snacks a day to school!
We have tried a number of products with much success but I also want some new ones so that I'm not giving them the same things all of the time.
And then it happened. The other week I came across a brand new product that not only looked good, but was better for you.
Introducing, Canadian made, Better-For-You, SPOKES Air-Puffed Potato Snacks (by Left Field Foods)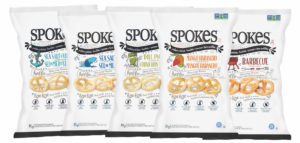 Their motto? Food shouldn't be complicated…and we agree! Who doesn't want simple ingredients with no preservatives?!
SPOKES are a light and crunchy potato snacks that are air puffed, NOT OIL FRIED!! They are lightly oil-misted and seasoned for a natural, delicious, clean and crisp taste. And did I mention they were created by a mom? Enough said 😉
Not only are they made with simple ingredients, but SPOKES are gluten-free, Non GMO and free of the 11 major allergens. Oh, and get this…they have only 40 calories per cup!! (But don't tell that to the kids!)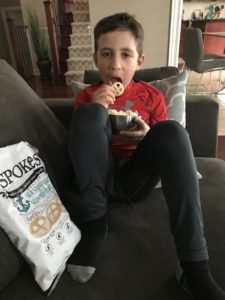 They are available in 9 different flavours so there's something for everyone! So far our personal fav is Sea Salt & Vinegar. Yum yum. I may have eaten an entire bag…maybe...
I really love when I can find a good snack that the whole family can enjoy. Mom approved and kid approved! #WINWIN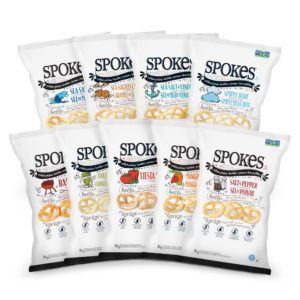 SPOKES are already available across Canada in most natural, conventional and independant grocers and retailers. Find a location near you HERE 
But wait! Our friends at SPOKES want to bring you in on this yummy goodness! They are giving TWO lucky readers a chance to win product by giving away 5 coupons each! All you have to do is enter below!
a Rafflecopter giveaway

*must be a resident of Canada excl. Que
So tell me, what flavour do you want to try first?!
xo
D
Disclosure: I received perks in the form of product and compensation for the purposes of this post. However, as always, opinions are my own and we truly love this product! We know you will too!