#CHOOSEKIND
Becoming a parent was one of the hardest things I have ever done. You can never be fully prepared for parenthood, you just go with it and do the very best you can.
Now while parenting comes with so many tremendous feelings like love, admiration, and all things unconditional, it also comes with things that aren't always good.
Worry. Constant worry. Pain. Pain our kids feel is automatically transferred to us and we feel their pain. It is the feelings that we just can't control.
One of the hardest things for me as a parent is watching my kids feel any sort of hurt. And it scares the s*#t out of me that as they get older there will be hard times. Like other kids who might be mean. Bullying. Being treated unfairly.
While these things should never happen, it is unfortunate to say that it might be inevitable for some. But it is the way we learn to handle it that is the most important. So while some kids ultimately experience this unnecessary hurt, we as parents must do our best to speak to our kids openly and honestly about life. The world. And why it is important to always do the right thing.
My oldest son is now 81/2 years old. Grade 3. He is beginning to understand and unfortunately experience some bad behaviours from others. In fact he has had altercations with another boy who wasn't treating him kindly. And one thing I can say is how proud I am of the way he handled the situation and himself.
Last November when the movie WONDER was coming to the theatres, I knew it would be a great film for him (and all of us) to see.
WONDER tells the incredibly inspiring and heartwarming story of August Pullman, a boy with facial differences who enters fifth grade, attending a mainstream elementary school for the first time
There are so many amazing points we can learn from this movie;
when given the choice of being right or being kind, choose KIND
never give up on yourself or others
people with special needs cannot be treated differently
kindness really can be contagious
don't ever lose sight of your dreams
Some great lessons for parents and for kids.
And so for now, we roll with the punches and do our best to always #choosekind.
If you haven't seen WONDER yet, not to worry!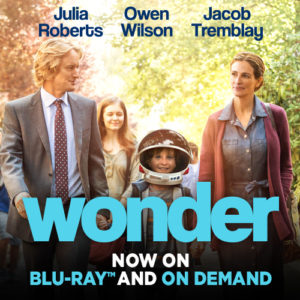 It's a perfect film for the whole family and as of today is on Blu-ray™ and On Demand!
But before you run out to get a copy, I have some great news. Our friends over at Entertainment One want you to be able to enjoy the movie and are giving 9 (YES NINE) lucky readers the chance to win a copy. All you have to do is enter below.
a Rafflecopter giveaway

Good luck!
xo
D
Disclosure: This post is in partnership with Entertainment One. I received perks in the form of compensation and product for the purposes of this post. As always, opinions are my own…