Did you know?
Low vitamin D levels in women could mean higher risk of breast cancer.
I didn't know this until after I was diagnosed and was given a list of things to eliminate, limit and add to my diet & lifestyle.
Adding vitamin D3 was a must for me.
Why?
Vitamin D can play a role in controlling normal breast cell growth and may be able to stop breast caner cells from growing.
While its best to get your vitamin D from natural sources, like the sun, us who live in Canada don't have sun all year round. However, you also don't want too much exposure to the sun because that can increase your risk of other cancers, namely melanoma.
Taking a vitamin D3 supplement is the second most reliable way. Of course you can also add in foods rich in vitamin D but you may not be able to get enough in a day.
I started using Arbonne's BeWell Vitamin D3 & K2 spray.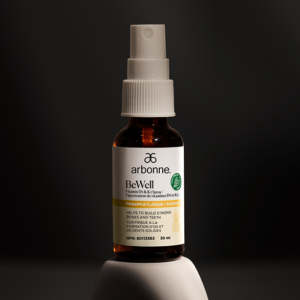 The vitamins work together to support biological functions which play a key role in the maintenance of good health. The D3 helps support immune function while Vitamin K2 helps in the maintenance of healthy bones. One dose gets you 800 IU of high potency vegan Vitamin D3 and provides 100% of your daily recommended dietary allowance of vitamin D.
If you aren't getting enough Vitamin D and would like more information about this product, please leave a comment on this post and I will reach out.
Before you take any supplements, talk to your doctor about the risks and benefits of the product, as well as what a good vitamin D serum level is for you.
xo
D