I wasn't allowed to take any vitamins or supplements a week leading up to the surgery and due to that & all of the pain meds I've been on, and the anaesthetic, my gut was feeling the effects. The bloat after a few days became so real.
As soon as I was able to start fuelling my body again, I jumped right back into my greens gut glow drink. Man how I missed it!!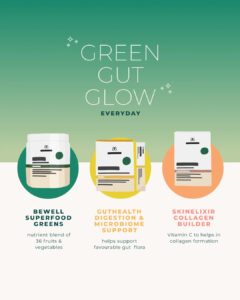 Do you know how important gut health when it comes to overall health?
It is crucial to maintain proper gut health in order to ensure that you are maximizing your health and wellness. When I finally learned about this and how to achieve it, so much changed for me.
If you have digestion issues, bloating, skin issues…it's time to add this drink to your day. And then say goodbye to bloat!
So why is this so imperative to overall health?
✨more energy
✨improved focus &mood
✨healthy skin
✨less bloat
✨immunity
✨weight management
✨collagen formation
✨recovery
✨hair & nail growth
If you experience any symptoms that are opposite of those, I've got a great solution. It is honestly something that I can't & won't live without now.
Don't wait! Drop a 👊🏼if you're finally ready to try it or hear more.
xo
D